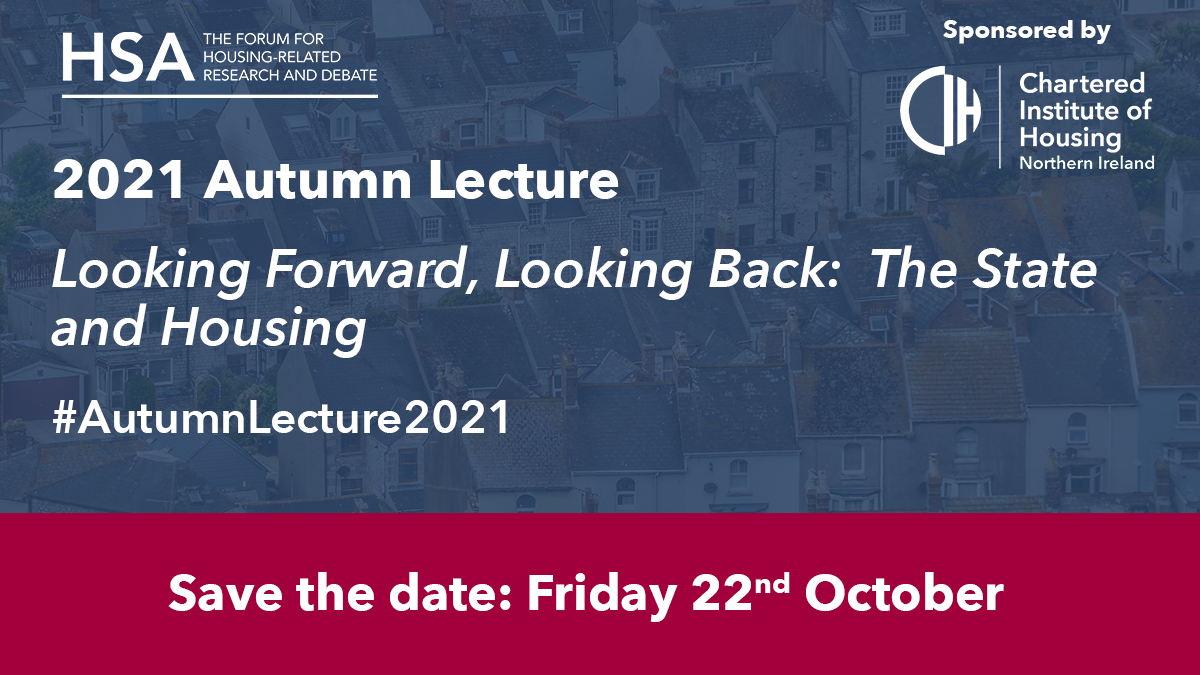 We are pleased to announce the return of the annual Housing Studies Association Autumn Lecture, as part of the HSA's 30th Anniversary Celebrations.
'Looking Forward, Looking Back: The State & Housing', sponsored by CIH Northern Ireland, will explore the role that the state has played in shaping housing in Northern Ireland and beyond, as well as looking to the future in terms of how this role may change.
We will hear from a number of engaging speakers who will outline their experiences of the role of the state within housing provision and management including welfare reform, private renting, the role of the political context and tenant engagement.
Our confirmed speakers include:
Dr Aideen Hayden, Chairperson of Threshold
Dr Kim McKee, Senior Lecturer, University of Stirling
Justin Cartwright, National Director for Chartered Institute of Housing, Northern Ireland
Dr Dáithí Downey, Dublin Housing Observatory & Head of Housing Policy, Research and Development for Dublin City Council.
The lecture will take place virtually on Friday 22nd October 2021 from 2pm to 3.30pm.
Following this there will be some time for virtual networking.
Tickets are now available for registration:
Members are able to attend for free, but booking is required.
Non-members can attend for the price of £35.
Non-members can join the HSA to access member rates. Membership prices are £25 for full membership, £11.50 for student membership, or £125 for lifetime membership.
More info on Membership and Benefits can be found here
Membership Benefits and Information

To book at place on this event