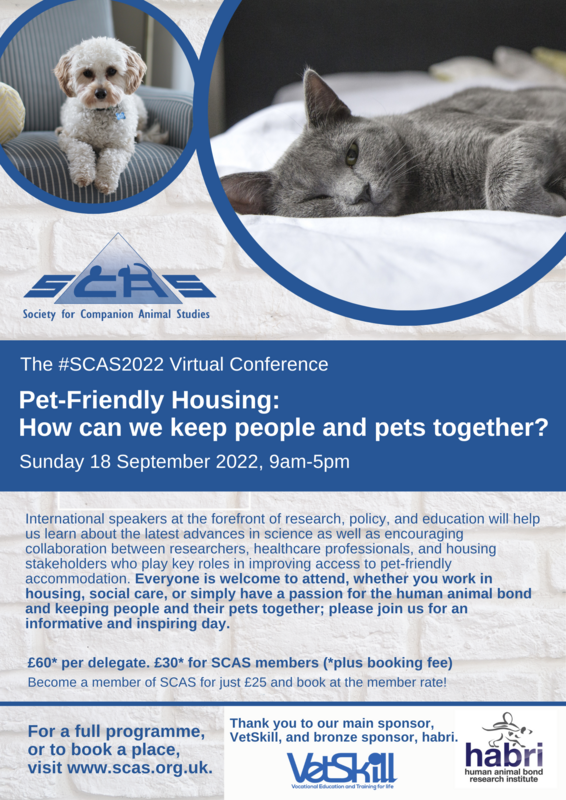 The Society for Companion Animal Studies (SCAS)' annual online conference is being held on Sunday 18 September 2022 and the focus this year is 'Pet-Friendly Housing: How can we keep people and pets together?'.
Of the 4.4 million households currently living within the private rented sector in England, just 7 per cent of landlords advertise their properties as being pet-friendly. Awareness of the challenge this causes so many people struggling to rent homes with their pets has been recognised in the government's recent whitepaper which includes proposals for the Renters Reform Act. The changes which would give tenants a legal right to have a pet if they wish but also protect landlords who will be able to require renters to get insurance so any damage to their property by pets is covered.
Our speakers at this year's Conference are some of the world's leading experts in Pets and Housing Issues including Lord Richard Stuart Best, member of the UK House of Lords, together with Dr. Bruce Moore, CEO of Housing 21, who worked together for many years at Anchor/Hanover Housing who have always had a pet friendly policy; Gilly Mendes Ferreira, Head of Education and Policy, Scottish SPCA will speak about their current Pets & Tenants Together advocacy campaign; John Littlemore, Head Of Housing at Maidstone Borough Council will introduce the John Chadwick Policy; and, Dr. Lindsey Braun, of the Human-Animal Bond Research Institute, will help us learn from other countries by presenting on working with property managers as allies to ease restrictions on rental housing in the US to strengthen the human-animal bond. She will be one of several researchers from the US, UK and Australia speaking on understanding both landlord and tenant perspectives in pet-friendly rental housing.
We would very much appreciate any help you can provide on spreading the word about the conference; I have included a poster and social media advert – if you are able to share these with any interested parties we would be very grateful.
More details on the conference can be found here, and a link to book here.