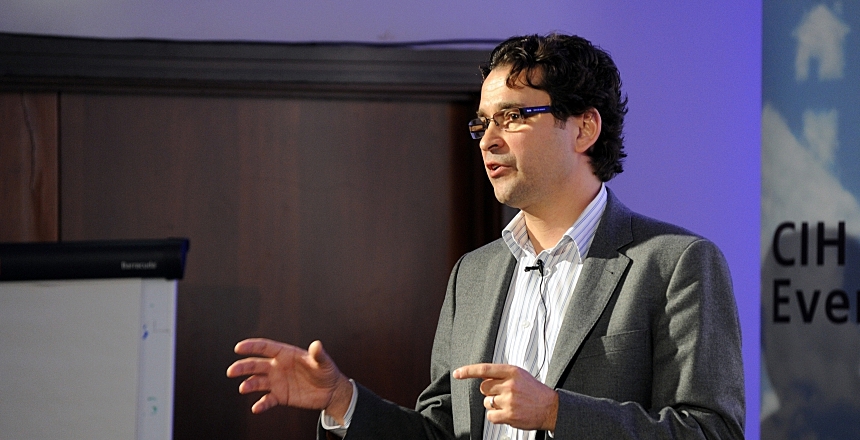 Gavin Smart, Deputy Chief Executive of the Chartered Institute of Housing, comments on the place of housing in this weeks' Budget announcements.
The speculation that housing would feature heavily in Wednesday's Budget turned out to be right.
The chancellor, and by extension the government, was at pains to show that he understands that our dysfunctional housing system is having real world consequences for people across the country. He focused particularly on increasingly unaffordable rents and rising house prices pushing home ownership out of reach for many, especially younger households. Rates of home ownership have indeed tumbled for younger generations with the number of 25-34 year olds owning their own home dropping from 59% to just 38% over the last thirteen years.
The last spring Budget contained so little on housing that we didn't do our regular housing briefing for the first time. This time the amount of attention devoted to housing was significantly greater; demonstrating just how high up the list of priorities housing now sits with the government. Indeed the fact the Budget Red Book itself has an entire chapter devoted to housing is itself highly unusual and worthy of comment. It feels as though we are in a very different place to where we have been in recent years.
So much for political perceptions and priorities, but what about the measures announced? Across housing and planning there was a long list of measures big and small. The common theme was housing supply, both in terms of increasing numbers and speeding up delivery.
The chancellor's analysis is that many of our current woes are caused by a chronic under supply of housing and he set out a target to see 300,000 new homes being built every year by the mid- 2020s. To a large extent that is a view which is shared by CIH and a wide range of other industry bodies and commentators.
The chancellor committed to spending £44bn on housing over the next five years in the form of capital funding, loans and guarantees. Unravelling the detail here will take a while including separating out the genuinely new money from the re-announcements so beloved of politicians. Whatever the final analysis, this is a significant amount of investment and a reasonably large chunk of it is in the form of cash as opposed to financial transactions – the loans, guarantees and other measures regularly employed by chancellors because they don't score on the public accounts.
From a CIH perspective perhaps the most important announcement was that the local authority sector would be freed to borrow an additional £1bn through Housing Revenue Accounts targeted at higher demand areas. History suggests that to build homes at consistently high numbers in the UK requires an active local authority contribution. The government has shown that it recognises this principle even if the sums of money involved are not yet as large as we might hope.
Coupled with the now £9bn of money for affordable housing now available through the Homes and Communities Agency (soon to be Homes England) alongside a favourable rent settlement for housing associations and local authorities there is now significant funding available for new affordable homes – even if we must still have an urgent national debate about exactly what affordable housing is given the amount of evidence that shows that in many ways affordable rents are anything but for those on the lowest incomes.
More investment will be needed in the longer term but at least for now the focus must be on getting homes built and ensuring that the size, type and cost of those homes reflects the reality on the ground. In my view, among other things, this certainly means acknowledging that there is a much larger role for new homes at social rents.
Beyond these numbers while the total amount of funding on offer is large and therefore welcome, too much of it remains targeted at home ownership and especially at demand side interventions which, given that they will kick in more quickly than supply is likely to rise, in fact risk exacerbating rather than addressing affordability problems.
Finally, there was also a degree of good news on support for housing costs from the welfare system. The waiting period for Universal Credit was changed from six to five weeks alongside a number of other measures to make it easier for people to get support – this is something that CIH has consistently called for. This is a welcome concession even if there is plenty more work to do. We'd still prefer to see the rollout slowed down so that some of the administrative glitches and other issues our members have told us about can be dealt with.
Meanwhile the announcement that there will be new Targeted Affordability Funding in areas with the biggest gap between local housing allowance rates and rents was welcome. But to ensure the welfare system genuinely provides the support for housing costs needed we think removing the freeze on LHA rates and fundamentally reviewing the way the LHA itself is calculated is the long-term way to deal with affordability issues.
In summary I think we can say that this was a good budget for housing given the restrictions on the chancellor, some of which are clearly self-imposed. It recognises the need for more action on housing supply and that this may require a more active government approach. There is more money which will help in the short to medium term.
But the welcome news in the budget will need to be backed up with further policy announcements and more investment in future budgets if we are to comprehensively address the failings of our housing system.
Gavin Smart is deputy chief executive of the Chartered Institute of Housing.